Last Year, 173 of America's Biggest Companies Paid Out Billions
"Section 1059 Plans"
Companies hand out these little-known lump-sum cash payments that are up to 38 times bigger than the regular quarterly dividends they pay!
Dear Fellow Investor,
Have you heard of "Section 1059 Plans?"
If not, you could be missing out on a fantastic source of extra income. 
We've found 173 large companies that paid out billions of dollars last year in what we've dubbed Section 1059 Plans.
Thousands of investors and corporate insiders cashed these checks or had the payments directly deposited into their brokerage accounts.
For example, Loretta*, a manager, collected Section 1059 Plan payments totaling $151,206 — a rough average of $12,600 per month.
Another example is Garrett*, a businessman.
His lump-sum payment was a whopping $94,240. 
That could be enough to pay his mortgage for several years in a row!
And then there's Patrick*, who works in finance. 
He collected the equivalent of $4,000 per month from his Section 1059 Plan.
Charlie*, an executive, collected an estimated $120,000. 
That works out on average to an extra $2,307 in his pocket… each and every week!
Now, if you haven't heard about Section 1059 Plans before, it's understandable.
They're not advertised in the mainstream media.
There is very little information about them on the Internet. 
And the government doesn't help you find out about them, either.
Yet the Payments from These Plans Could Add up to a Second Income!
And what's really great about the payments from these plans is that it's your business how you spend them. 
You could use them to pay your mortgage for a year…
Or to take a luxury vacation…
For income investors, these cash payments could provide a significant boost to their portfolios.
That's because the amount of money companies are paying out in what we call Section 1059 Plans keeps getting bigger and bigger, because…
U.S. Companies Are Now
Awash in a Sea of Cash
According to The Wall Street Journal, U.S. companies, having booked record profits, are stashing an estimated $2.4 trillion in foreign subsidiary accounts. 
Some of America's biggest companies have record amounts of "un-repatriated" income held offshore. Last time I checked...
Apple had over $91 billion overseas. 
Pfizer, $80 billion.
Microsoft stashed $108 billion overseas and General Electric $104 billion.
IBC, $68 billion.
That's where Section 1059 Plans come in. They enable big American companies to pay out the billions in cash they have accumulated. These are payments outside of regular dividends.
For example, last January, a large energy company paid out a Section 1059 Plan payment of $2.29 per share — a lump-sum payment that represented a yield of 16.7% in a single day.
This wasn't a quarterly dividend or other regularly scheduled payment. 
Instead, it was a special payment.
This company usually pays a quarterly dividend of $0.06 per share… so this Section 1059 Plan payment was 38 times bigger than a regular dividend payment!
That's right: 38 times bigger!
And hundreds of big American companies are in the same situation. 
That's why they issue what we call Section 1059 Plan payments.
And here's the best part about all this:
The Trump Tax Break Repatriation Plan Means Even MORE Cash Will Be Paid Out!
Many giant American companies will be bringing their cash back to the U.S. as part of Donald Trump's proposed tax amnesty plan.
That means there are LOTS more Section 1059 Plan payments that could be issued.
U.S. corporations previously repatriated overseas income at a one-time reduced rate of 5.25% in 2004, the last time the federal government brought in repatriation tax reform. Nearly 850 companies repatriated an astonishing $300 billion.
The same thing is happening now — and I believe that HUNDREDS of companies will be issuing Section 1059 Plan payments in the coming weeks and months. 
In fact…
Section 1059 Plan Payments Could Supercharge Your Portfolio
With interest rates being held so low for so long, conservative investors seeking income have had a difficult time in recent years.
Interest rates on two-year CDs still hover around a measly 2%. 
The average dividend yield on S&P 500 stocks is under 2%, too.
That's why Section 1059 Plan payments have so many investors excited!
Just consider Richard*, a manager, who now has an extra estimated $1.6 million because of the Section 1059 Plan payments he's collected.
That's right: $1.6 million!
Richard is 59 and still working. But because he invested in a company that issues Section 1059 Plan payments, he's collected huge payments most investors never see.
And here's the best thing about Section 1059 Plans: it's easy to sign up for them.
You provide your name, Social Security number, some other info, and approved identification, such as a driver's license or passport. (You must be age-of-majority.)
Depending on the company, the cost for registering could be as low as $29.
Thousands of investors have already registered with specific companies to collect Section 1059 Plan payments.
Of course, the more companies you sign up with — and the more you invest — the bigger your Section 1059 Plan payments will potentially be.
One caveat, however: please don't wait.
You have to be registered in advance in order to collect Section 1059 Plan cash payments.
You don't want to miss out on some of the biggest cash payments to come along in years…
America's Biggest, Richest Companies Could Pay No Matter What
Remember, Section 1059 Plan payments come out of a company's profits.
They are almost always handed out in cash, either through checks or through direct deposit into investor accounts. 
And as we've seen, U.S. companies now have literally trillions of dollars in profits to share.
For big corporations, Section 1059 Plan payments are a win-win transaction.
A few years ago, one of America's largest retailers had amassed $3.9 billion in cash.
The company's board of directors decided to pay out $3.5 billion in enormous one-time cash payments to the company's registered Section 1059 Plan members. 
Individuals who had registered with the company could have positioned themselves to receive lump-sum payments of…
…$7,000 …
…$23,000 …
…$45,000 … And, in at least one case, even…
…$100,000.
And here's what is really exciting: 
This same company has accumulated $3.3 billion in cash.
It's very likely that the company will soon hand out more Section 1059 Plan payments shortly.
It doesn't matter if you're wealthy or only a small investor. 
As long as you register with the company in time, you get your check.
Act Now… and You Could Be
Collecting Your Own Section 1059
Plan Payments in Weeks!
Hello. My name is Robert Baillieul, B.Comm.
I'm a senior editor here at Lombardi Publishing Corporation, specializing in income investing.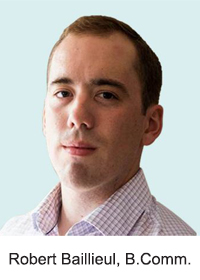 I have a Bachelor of Commerce from Saint Mary's University. Prior to joining Lombardi, I worked as a risk analyst at TD Securities, a division of a top 10 North American bank with 25 million customers worldwide.
Over the years, I've found that all too often the investments you hear about in magazines and on TV talk shows are the worst ones possible.
As a result, I've spent years uncovering the income investments that could potentially produce the best results for individual investors — not for the big brokerages and financial institutions.
And that's how I discovered Section 1059 Plans!
I believe they're one of the very best income investments available today.
For one thing, these Section 1059 Plan payments are huge! 
And I'm not the only one who has noticed them, either.
Barron's says that the payments are "akin to receiving an unexpected tax refund."

TheStreet.com says that with these payments, companies are "…throwing money at you. Take it."

Forbes says these payments "seem each day to grow more plentiful. Companies are eager to reward shareholders… So, giving out cash now… makes good sense."
With hundreds of companies expected to issue Section 1059 Plan payments, you could collect from more than one company.
Fortunately, you can now learn everything you need to know about these windfall sources of extra income.
I've just finished an investor research report called Section 1059 Plans: How to Collect the 3 Biggest Lump-Sum Cash Payments.
In this valuable special bulletin, I tell you all about not one but three Section 1059 Plans that could hand you a massive payout in the next few weeks or months…
Play #1: The first company is one of the largest, most successful retailers in America, earning a gross profit of $15 billion last year and with a history of handing out massive Section 1059 Plan payments…

Play #2: The second Section 1059 Plan play is a wildly successful investment management company (with $1.2 billion in cash and equivalents) that is expected to begin issuing new Section 1059 Plan payments soon…

Play #3: The third Section 1059 Plan company is a restaurant chain — with over 600 stores in 43 states — that has annual gross profits of almost $2 billion and has handed out Section 1059 Plan payments in the past…
My research tells me ALL of these companies are poised to begin writing big, fat checks. 
And in addition to detailed information on all three of these plays, in your copy of Section 1059 Plans: How to Collect the 3 Biggest Lump-Sum Cash Payments, you'll also discover…
Why Section 1059 Plan payments are better than almost every other income play

Which companies issue the most Section 1059 Plan payments

Why it's possible to enroll in more than one Section 1059 Plan at a time

The enormous tax benefits of Section 1059 Plan payments

The companies that have been paying out Section 1059 Plans for the longest time

How to start collecting your first big Section 1059 Plan payment

Where to get the forms you need in order to get registered for Section 1059 Plans

And lots MORE!
Could the Answer to Your Retirement Planning Needs Be Here?
Let's face it: if you're like many Americans, you probably could use an extra source of cash income whether you're already retired or getting close to retirement.
According to the National Institute on Retirement Security, the median retirement account balance is $3,000 for all working-age households — and just $12,000 for near-retirement households.
Estimates suggest that they'll need retirement accounts of more than 11 times their income to maintain their pre-retirement income and their standard of living after they stop working.
But the good news is that the situation is far from hopeless.  
There are a number of simple, proven ways you could "catch up" with your retirement savings.
And that's why I created my income advisory, Passive Monthly Income.
It's the only investment research service I know of that is laser-focused on proven income investments…
… the type of investments that could keep paying you regardless of what happens in the market and the economy.
In each monthly issue, I discuss income opportunities that have longevity and successful track records with returns often over 25 years.
Apart from what you'll learn about companies that have Section 1059 Plans, there are other secure, high-paying income plays that regularly and consistently churn out solid annual payouts to investors.
I'm extremely proud to report that the average profit of the 22 open picks in my Passive Monthly Income Core Portfolio sits at 52.4%.
And that doesn't include the handsome dividends my picks pay out every quarter!
To stress how good this track record is:
I've only made low-risk investment recommendations to my readers on income plays with a long history of rising payouts to their investors.
I'm delivering average gains of 52.4% from secure income plays in an environment where 10-year U.S. T-bills are paying around 2% to 3%!
Now, I want to make this perfectly clear:
While my track record sounds phenomenal…
… there's no guarantee that every one of my recommendations will make money.
Past performance is no guarantee of future results and all investments — no matter how safe they sound — have some form of risk.
That said…
Through Passive Monthly Income, you will get income ideas from companies in highly government-regulated markets that are often immune to economic downturns.
That's why I want to send you my research report, Section 1059 Plans: How to Collect the 3 Biggest Lump-Sum Cash Payments, with my compliments.
In return, all I ask is for you to try Passive Monthly Income.
Once your membership is activated, you'll get:
Your copy of the valuable research report, Section 1059 Plans: How to Collect the 3 Biggest Lump-Sum Cash Payments.

Full access to my portfolio of the best income investments; besides Section 1059 Plans, you'll have access to high-yield dividend plays, rising income plays, and various "royalty" programs in my portfolio.

12 monthly issues of Passive Monthly Income (that's one year of service), each packed with safe, income-making ideas.

Action-alert e-mails; these quick e-mails are designed to help you maximize your profits on income investments I have recommended.
And here's the best part…
Lombardi's monthly financial advisories range in price up to $1,995 a year.
We've sold Passive Monthly Income for years at the annual rate of $295—that's 12 monthly issues, plus e-mail alerts.
But in light of the retirement crisis hitting America today, I know every dollar counts.
That's why I want to do better than that for you!
Your rate when you order today is $100 off the regular price: you pay only $195.
Yes! $100 off the regular annual price!
And the $195 is not a promotional or introductory price. It is the permanently discounted annual price you will pay going forward; for as long as you are with us.
And it gets even better…
If I don't deliver the profits I claim and more from low-risk income investments, or if you are not satisfied for any reason, let us know by phone, e-mail or regular mail anytime during your one-year, 12-issue subscription and we'll send you a refund for your undelivered issues.
Of course, the special report, Section 1059 Plans: How to Collect the 3 Biggest Lump-Sum Cash Payments, is always yours to keep with my compliments.
This guarantee is backed by our company, in business for 34 years now and having served over one million customers in 141 countries!
I can't be fairer than that.
One last thing:
Very few people ever cancel once they start with Passive Monthly Income.
With the average return on my Core Portfolio of picks in Passive Monthly Income up a whopping 52.4%…
All from safe income investments (and that doesn't even include the dividends my picks pay each year)…
Why would anyone not continue with Passive Monthly Income?
Now it's your turn.
All you have to do to get started immediately is to click the link below.
It will take you to our secure order page where you can read a summary of everything I've just said before you place your order.
But please, don't waste another moment.
Click the link below now!
Sincerely,




Robert Baillieul, B.Comm.
Editor
Passive Monthly Income